Ah Paris, the quintessential romantic city in which one envisions a stroll by the Seine, a kiss under the Eiffel Tower... however for those who live in Paris, we become creatures of habit.
Wake up. Quick shower. Bus to work. Work. Lunch. Work. Bus to home. Dinner. Sleep. Repeat.
Which is why we, in Paris, tend to live for the weekends. Those lazy Saturday mornings, where you don't wake up heart pounding at 5am thinking you forgot something important at work, where you just do as you feel.
Brunch in Paris is a more recent phenomenon, branching from the Americanism that has spread across France post-Bush era. The Yuppie culture from the 90's was a time of listenting to The Zombies while sipping a Chai Tea Latte in a chic Café. France has not been spared.
One of the things we have discovered as a 20 something Franco-American couple in Paris is the Brunch spots.
So popular, websites even started popping up, such as:
Ou Bruncher?
or
Brunch A Paris.com
Explications of the best local brunch spots, those to be avoided.. Of course in my American skepticism I realized the French are not quite sure what the concept of Brunch truly is. Some brunch spots offer a sort of
croisement
between both cultures, starting with a basket filled with crispy
viennoisseries
and finishing with a lumpy bowl of scrambled eggs. Some go as far as have a pancake,
for dessert.
Every few weeks when we get the inspiration we tredge through the different sites and select our Sunday brunch adventure.
So far, some of the ones that we have discovered as a young Yuppy couple in Paris:
Café Charlot (
38 Rue de Bretagne 75003 Paris)
Just a few steps from Métro line 8 (Filles de Calvaire) or Métro line 11 (Arts et Métiers) this little café somehow always has a little table in the corner for us. We've been there twice,
First time I took their Brunch Menu at 19€, which includes a drinks (coffee and orange juice), salty things (scrambled eggs, cream and smoked salmon, French toast and a fromage blanc) as well as unlimited breads.
Quite filling, and a nice little finish with some fresh fruit to soak up the fat. A fabulous choice after a soirée from the previous night.
However the next time we went, I decided I needed something different. I am a personal fan and adorer of Eggs Benedict... those nicely poached eggs placed delicately on a pillowed English muffin and sandwiched with bacon or ham and a large coating of Hollandaise sauce. For 13.50€, the restaurant has two of these delicacies, add 3€ for a coffee, 9€ for a hefty dessert and there is no need to eat dinner that night.
Eggs Benedict - 13.50€, Café Charlot in Paris
Cheesecake du Jour (Noisettes Caramélisées) - 9.00€, Café Charlot in Paris
Of course, there are weekends where the last thing we want is a large breakfast, so then we decide to hunt down one of our little American pastry shops and settle for a little coffee and a slice of American style cake.
Sugarplum Cake Shop (68 rue du Cardinal Lemoine 75005)
A little shop situated right up the street from the famous French University La Sorbonne, it's a perfect quaint escape from the bustle of Parisian life.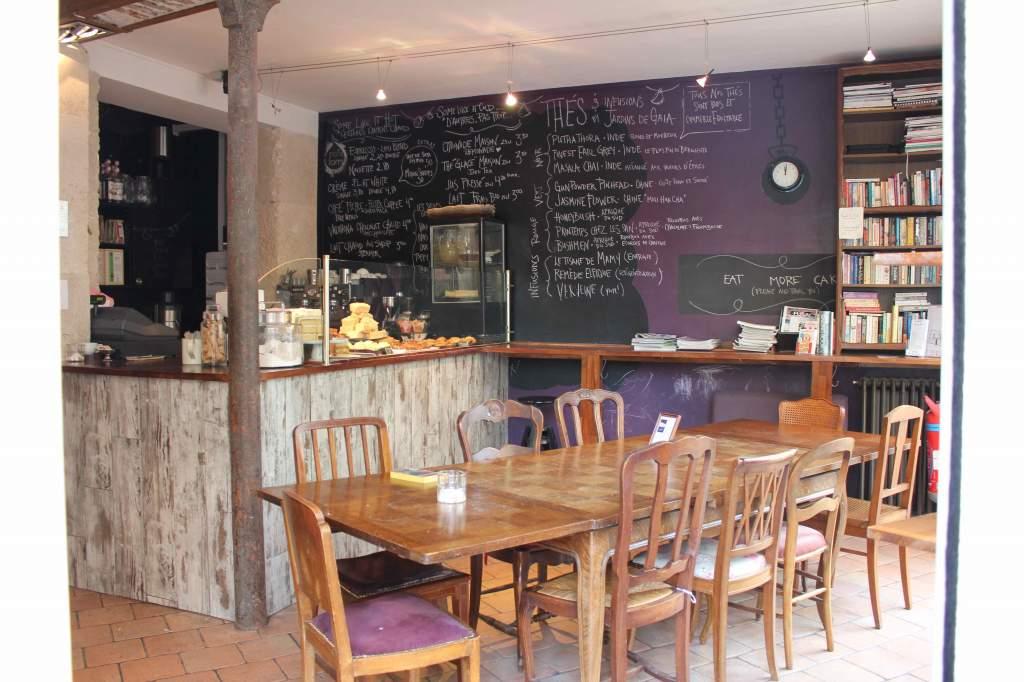 Interior of Sugar Plum Cakeshop, photo credit: Paper Blog
A selection of desserts and coffee items, ranging from 5€-10€, it's easy to have a pretty excellent slice of Carrot Cake and a latté for 10€, the price of a Starbucks and a pastry, but a much more pleasant atmosphere. It's easy to run into expatriates, writers, homesick students and of course the curious French.
Carrot Cake, Valrhona hot Chocolate at Sugar Plum Cakeshop (11€)
Of course the egg hunt doesn't stop at Charlot café, next stop to try out the authenticity of the name, Eggs & Co.
Eggs & Co.
(11 rue Bernard Palissy, 75006)
First off, this place is quite small, translation, if you don't want to hear your neighbors or bend down to sit down, this is not the place for you. If you appreciate slightly off restaurants with unique personality, then do come...
RESERVE
however. Otherwise a lovely line of 30 minutes is what you will be welcomed with.
Secondly, there are eggs any way you want them. In the fashion of Bubba from Forrest Gump, any type you can imagine, Eggs & Co serves. There is of course a brunch at 22€, including the juice and coffee as well as eggs and a pancake for dessert.
L'Inedit Cafe (4 Rue Taine, 75012)
When I first moved to Paris, I gave English courses. One of my students was a fabulous lady, her English impeccable and she loved to eat as much as she loved to talk. She dragged her family out to Brunch and invited us to join to discover a little place with a fantastic menu at 18€ for everything, including unlimited REAL coffee. This place proposes the typical Frunch, French Brunch, with the pastries and eggs as well as a lovely dessert... we have been there twice and each time the ambiance was fabulous.
Beginning of brunch (18€) at l'Inedit Café, photo credit Rygo Point
Le Passy (
2 Rue de Passy, 75016)
As a bit of an upscale day, we decided to be a bit fancier and head over to the 16th for a brunch branché. The difference is this place has a brunch menu at 26€, drinks included, however the presentation is completely different. First half, salty, is presented in delicate little plates so that we can taste each dish. Then the sweet things come out, also in delicate mini plates. It is a bit expensive, but the restaurant is so beautiful it almost makes up for the price.
Mini Desserts from the brunch at Le Passy
And finally, out of love for the Brits and all other Anglosaxons, we took a stop by the Frog chain:
Nestled in a quiet little area on the west side of Paris, this little pub is immense in the inside. Chairs and tables for at least a cover of 200 people, we came on a quiet Sunday for their brunch. Unfortunately, no menu fixe, however there is a quite decent eggs benedict for 14€.
It wasn't the most exceptional brunch that I ever had, but still a place to visit. I assume this place is much more fun during a week night for a happy hour!
Happy Brunching!